Your Source for Unique Residential Upholstery in Atlanta, GA

Every part of your home should reflect the powerful individuality of your personal style. That includes your upholstery. When you want something you won't find at a big-box retailer, turn to Buckhead Upholstery Co. Offering custom, USA-made residential upholstery in Atlanta, GA, we have everything you need to elevate your space with a distinctive look that captures the beauty and personality you want from your furniture.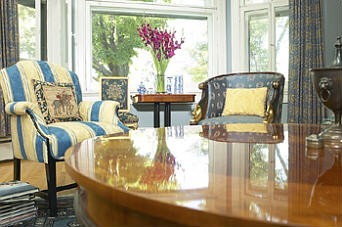 Want something to match antique or hand-made furniture? Need to restore an old chair with vibrant new materials? We're your destination for quality, convenience, and unwavering attention to detail. When you work with us, there's never any doubt that your finished product will display the unparalleled craftsmanship our team demands for every customer.
The Results You Want, Without Delay
Our timely turnaround on service and delivery is one of the signature hallmarks that make us a local favorite for upholstery and furniture restoration. Across Atlanta, both homeowners and commercial clients trust our handiwork when they need sturdy, visually stunning furniture to suit any room. We work to earn that trust by never compromising on our commitment to top-notch artistry.
You can take advantage of our renowned quality to enjoy a new chair or sofa that stands out from anything that comes in a catalog. Family, friends, and visiting neighbors are sure to be impressed by the work we do, and our furniture is far more than an eye-catching addition to your décor. We provide functional, practically designed pieces that prioritize comfort in addition to beauty.
The Dependable Option for Discerning Clients
Have something very specific in mind for your space? At our shop, that's never a problem. We can create custom upholstery based on your vision. That can include service options such as:
Following a Provided Blueprint
Translating a Drawing into a Design
Replicating a Look from Photographs
We want you to be completely satisfied with your new or restored furniture. If it's within our power to give you the exact look you want, we'll go out of our way to make it happen. If you're ready to have your dream upholstery made, our staff is here to provide comprehensive service and an incomparable customer experience.
Contact us today!